Limited Editions at the Stone House

Every now and then a special chalkware design just happens........

Limited Editions are chosen for unique design and major detailing making these pieces very collectible. Much like a painting on the wall, these 3-dimensional art pieces tell a story, the more you look, the more you see!
A special edition design will be sold until the limited number is completed.

Aged in an old world fine crackle finish, Stone House collectibles look old from the beginning.

SIGNED, DATED AND NUMBERED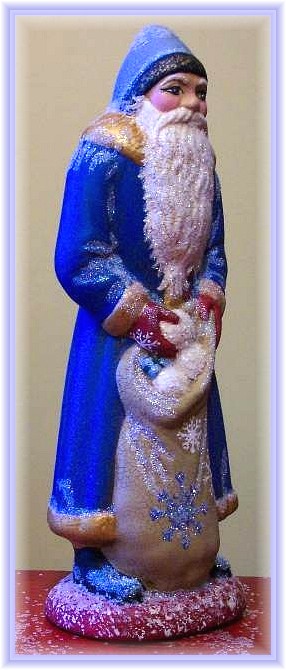 Father Winter
50/2004
LE-1
8" tall

Father Winter is just full of surprises, he not only has a bag full of presents, he's also included snowballs!
He has a wonderful face, just full of giggles and grins. He's sure to be a wonderful addition to your collection or give as a special gift to that avid Santa collector on your list.
LE-1
$110.00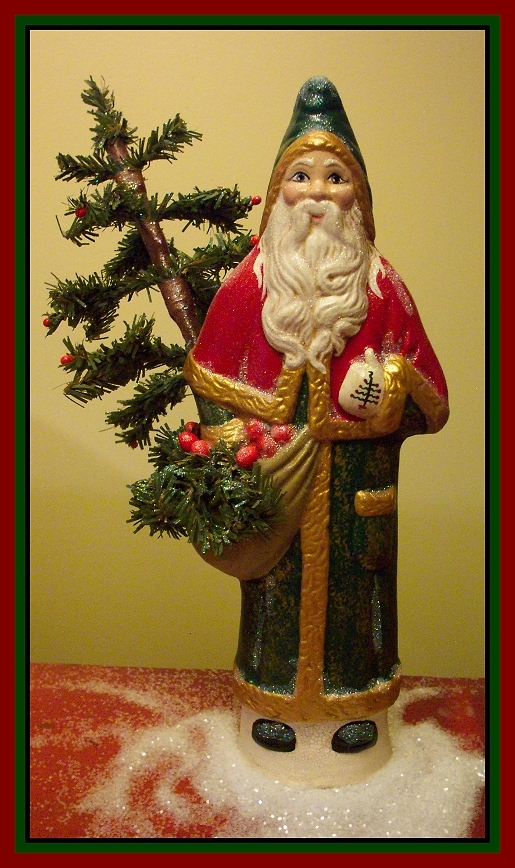 Good Tidings Santa
50/2004
LE-2
10 1/2 inches tall

Wishing you GOOD TIDINGS not only during the holiday season but throughout the year This collectible Santa is just brimming with JOY, PEACE, LOVE, AND PROSPERITY for all! His happy face and curly beard are simply the best! He carries a removable for storage Christmas tree to some lucky person on his list.
LE-2
$155.00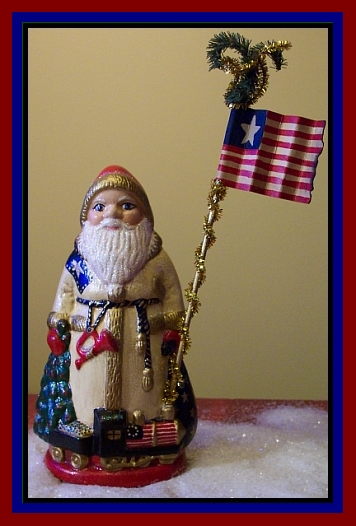 Patriotic Choo-Choo Santa
50/2005
LE-3
8 inches tall

This guy is just full of detail top to bottom, all the way around, American as apple pie!

He has a wonderful cherub face that will make you smile when you look at him. In one hand, he carries a Christmas tree decorated with berries, in the other a rich navy star-studded toy bag.
He stands 8 inches tall, with the flag he's almost 10 inches.
His handmade, aged flag removes for storage.
LE-3
$109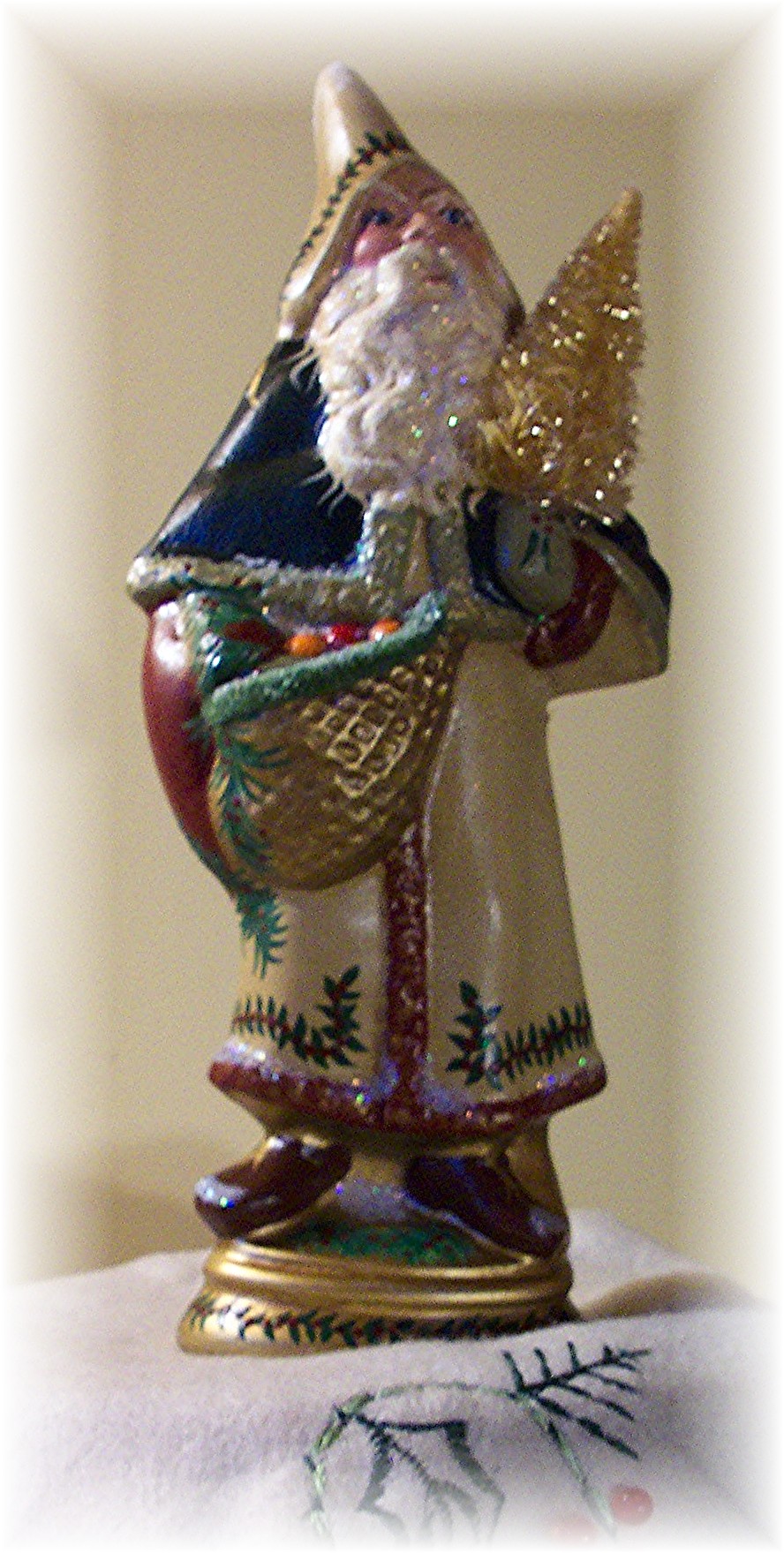 Yuletide Father Christmas
50/2006
LE-4
9 1/2" tall

This highly detailed Reiche mould is simply perfect from top to bottom. Heavily raised detailing on his face and beard make him almost lifelike!
His stance is proud....standing with his head thrown back and mouth open, you can almost hear him roar.
This 2006 LIMITED EDITION Yuletide Father Christmas is aged from the beginning, comes to you looking like an antique. He is signed, dated and numbered. Don't miss adding this special memory maker to your collection or giving as a gift...... for he is sure to become a family favorite for generations to come.
LE-4
$125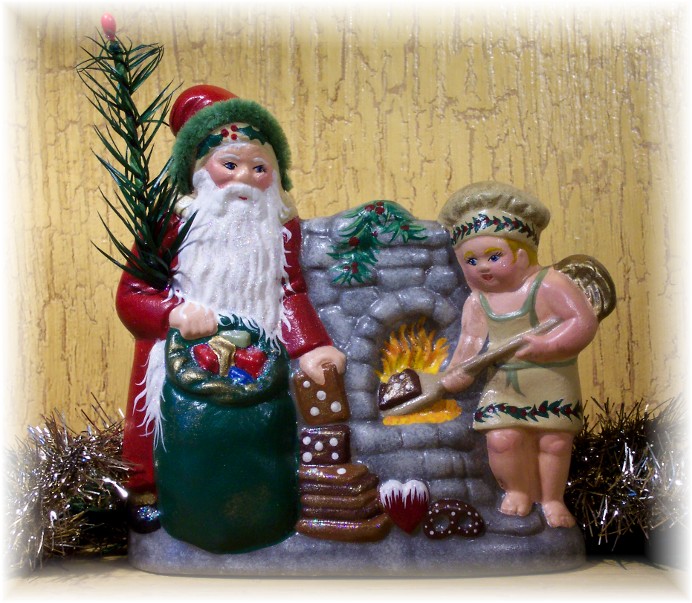 Angel Baking Cookies for Santa
50/2007
LE-5
4 1/2 x 4 1/2"

The treats are ready and Santa is so thrilled with how they turned out....they will make wonderful treats for the children on his list! The little angel is so proud to be able to be the angel selected to be Santa's little baker!
The chubby little angel is dressed in his favorite antique white baking apron and chef's cap all trimmed up for the holiday season....OOPS...the back of his apron came open exposing his plump little tush...all pink from the oven's heat!
Santa is dressed in his best red robe. His hood is trimmed with an antique white band decorated with holly leaves and red berries...all set off with an old green chenille trim. His long, long beard hangs over and down the side of his green gift bag....already filled with presents to be delivered. A feather tree twig topped with a red berry fits perfectly into his loving arm. The gray stone oven is decorated with pine boughs and red berries and a pretty Christmas tree is tucked away behind the oven..
This very old and much sought after mold is just full of detail all the way around....it tells a wonderful story! Don't miss adding this special Limited Edition to your collection. A handmade gift/storage bag with gift tag is included with your Limited Edition....a special gift to you!
LE-5
$125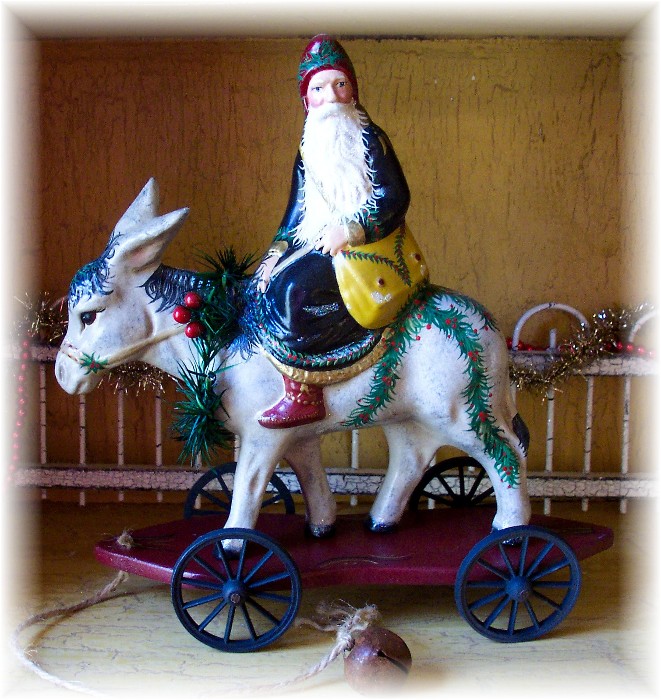 Father Christmas and Donkey
50/2008
LE-6
Approx. 12" tall

This is a must have Limited Edition!
Father Christmas and his donkey stands 10 inches tall, on the cart they measure approx. 12 inches. Father Christmas is painted a very deep dark burgundy (looks like velvet) and he carries a mustard over the shoulder bag. He is wearing burgundy hat and boots. Both Father Christmas and donkey are detailed all the way around with pine garland and berries. Donkey sports a real goose feather wreath around his neck.
The pull cart is made of wood with real metal wheels is painted burgundy and detailed with gold and black pin stripes. An old rusty bell tips the end of the pull cord.
Signed, Dated and Numbered
LE-6
$325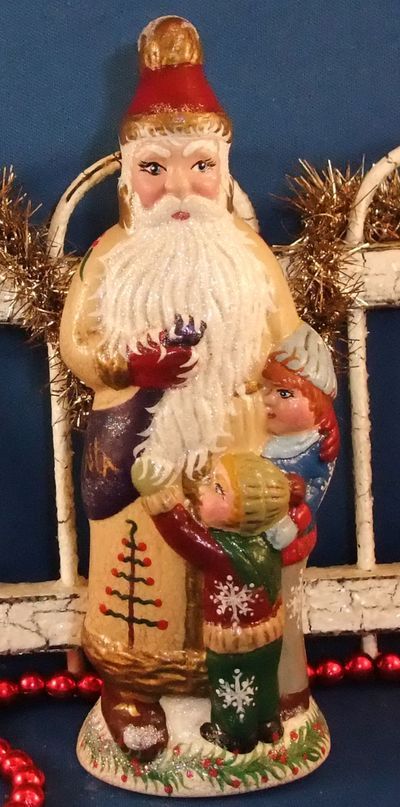 Santa and Children
75/2009
LE-7
6 1/2 inches tall

Every child is special to Santa and the children just adore him. He has such a pleasant face with his long flowing beard, you can't help but love him yourself!
Santa is wearing his best off white robe trimmed all the way round with handpainted feather trees. He is carrying his favorite purple velvet toy bag he actually signed himself!
The children are dressed in their best sweaters and pants just to meet Santa and he told them how handsome they look. Their little faces show the love they feel for this magical man.
Snowflakes are falling and have stuck to the children's clothing. A fine pine garland with berries trim out the base.
LE-7
$115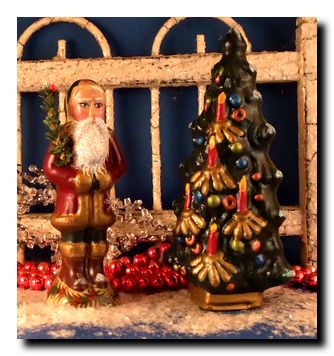 Father Christmas
and
O'Christmas Tree
50/2010
LE-8
4 inches tall
and
5 inches tall

Father Christmas and O'Christmas Tree are simply fit for each other! Both are fashioned from antique molds dating back to the 1800's.
Father Christmas' coat is burgundy, pants and hat are deep green. A holly leaf and berries sit atop the antique white band on his hat. He is resting...... sitting on a pine tree stump. A pine garland encircles the base.
This pair will make a wonderful addition to your collection or the perfect gift to that collector on your gift list....a gift to keep memories alive.
The Tree, though not a limited editon, is included to complete this set.
LE-8
$92
View Cart / Check Out
---
| Return Home | Father Christmas, Santa, Saint Nicholas, Snowmen | German Belsnickle | Patriotic Series | Limited Editions | Christmas Ornaments | Special Gatherings | Wholesale | Email the Stone House | What's New |