Darling little ornaments to help decorate your Christmas Tree or sit on a shelf!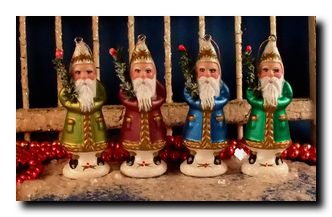 WEE BELSNICKLE
ORNAMENT
WBO-01
3 1/2" tall
Isn't this simply the sweetest little ornament? A perfect little tree trimmer.
Wee little chalkware Belsnickle is painted in metalic paint and decorated with pine garland with berries. Very, very fine mica gives this little guy lots of magic glow.
Give them as gifts to everyone on your list and don't forget yourself!
WBO-01
$38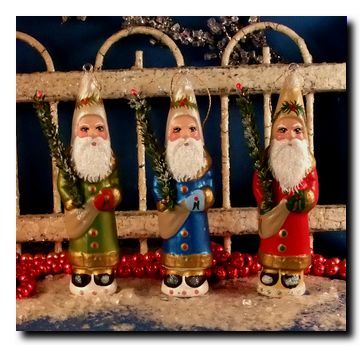 BELSNICKLE ORNAMENT

WBO-2
4 1/2
Now this darling little Belsnickle ornament will make the perfect accent on your little tree. He's just as sweet as can be! Handpainted in metallic colors or tradional colors. Finished off with a very fine mica that gives him the 'glow' he deserves.
What a perfect little gift or extra gift for that someone on our list...and don't forget to treat yourself.
WBO-02
$38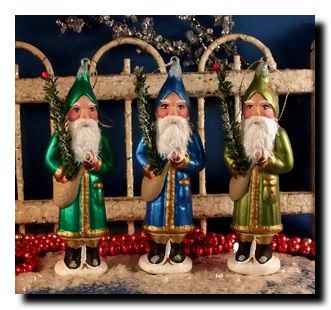 FATHER CHRISTMAS
ORNAMENT
FCO-01
4 inches tall
An old favorite who became an ornament. Father Christmas is all done up either a metallic look or with a tradional flair.
Just perfect for your small tree or big enough for the big one! Finished off with very fine mica for a wonderful wintry appeal.
A great little guy to fill those little extra gifting plans. Don't forget to order one for yourself!
FCO-1
$38
View Cart / Check Out
---
| Return Home | Father Christmas, Santa, Saint Nicholas, Snowmen | German Belsnickle | Patriotic Series | Limited Editions | Christmas Ornaments | Special Gatherings | Wholesale | Email the Stone House | What's New |